The McNair Centers for Entrepreneurism and Free Enterprise®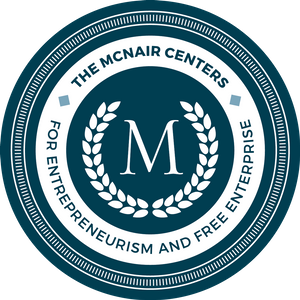 Our Goal
Focused on inspiring and educating future business leaders.
Robert and Janice McNair are committed to developing a new generation of entrepreneurial leaders who have both the technical skills and the philosophical understanding of how the free enterprise system forms the basis of economic opportunity and prosperity for individuals in our country. Their unique endeavor seeks to empower a new generation of creative, productive leaders who will be positioned to enjoy the benefits of free markets — including creating jobs and economic growth.
CENTERS OF OPPORTUNITY
The McNairs are proud to provide financial support to The McNair Centers for Entrepreneurism and Free Enterprise at colleges and universities across the United States. The goal of the centers is to educate young people in the foundations of entrepreneurial leadership and free enterprise — including teaching and modeling the principles of individual responsibility, limited government and principled entrepreneurship. These centers provide students, researchers and professors with financial support as well as the tools and experience they need through academics, case studies, mentorships, competitions, and real-world experiences so they are prepared to launch new and innovative businesses in their chosen areas of interest. The McNair Centers are located at Houston Baptist University, Northwood University, Rice University, University of St. Thomas and University of South Carolina.
"We are confident that the McNair centers will mold a new generation of young people who will find their entrepreneurial spirit, achieve the american dream and prove once again, that america's best days are yet to come."
— Robert C. and Janice McNair